Episodes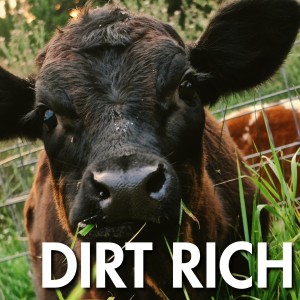 Wednesday Aug 10, 2022
Wednesday Aug 10, 2022
The Minnesota Garlic Festival returns to Hutchinson, Minnesota this Saturday, August 13! And that's got us thinking about seed garlic and planning ahead for the fall planting. Please enjoy this delightful conversation with two seasoned garlic growers, and consider joining us on Saturday for garlic food, fun, and conversations with farmers.
Originally released September 16, 2020.
-----------------------
"Minnesotans don't like that garlic. They don't eat that spicy stuff, dontcha know?" Jerry and Sunny and their sold-out-by-August harvest beg to differ!
Jerry Ford and Sunny Ruthchild  are longtime friends in Minnesota garlic and organic farming. Sunny runs Merryweather Gardens near Walnut Grove, raising garlic, poultry, vegetables, and pigs who are happy to be the clean-up crew for her orchard. Jerry raises replacement dairy heifers, grass-fed beef, and garlic with his family at Living Song Farm near Howard Lake.
Before they get back out there to plant next year's garlic crop, they're taking some time to compare notes and philosophies as they prepare for the next season and climate unknowns. They get into:
Site Selection - Jerry's land is hilly, Sunny's land is flat. They both make it work.
Soil Prep - "If you need to add chemicals to the soil, you need a different site."
Timing of planting
Seed garlic and varietal selection - Seed garlic grown in Minnesota does well in Minnesota.
First-time growers & gardeners - Porcelain varieties are a great place to start
Dip treatments - Nah.
Their agriculture philosophies
Mulching
Being adaptable to change in markets and climate
Garlic is a high-value, premium crop here in Minnesota. As Sunny says, "the truth is, Minnesota can grow garlic. And the other truth is, people in Minnesota love good garlic, don't let anybody tell you anything else."
Jerry Ford - Living Song Farm, SFA Network Coordinator
Sunny Ruthchild - Merryweather Farm
Katie Feterl - SFA Communications Director
The viewpoints of the speakers expressed within or outside of this episode do not necessarily reflect the goals and mission of SFA.
Resources:
Minnesota Premium Garlic Project
Minnesota Garlic Festival & Virtual Directory
Dirt Rich Episode 6: Harvesting Minnesota Garlic